2018 Conference Date: Friday 7th December
2017 NSW ALNC Conference - Keynote Presentations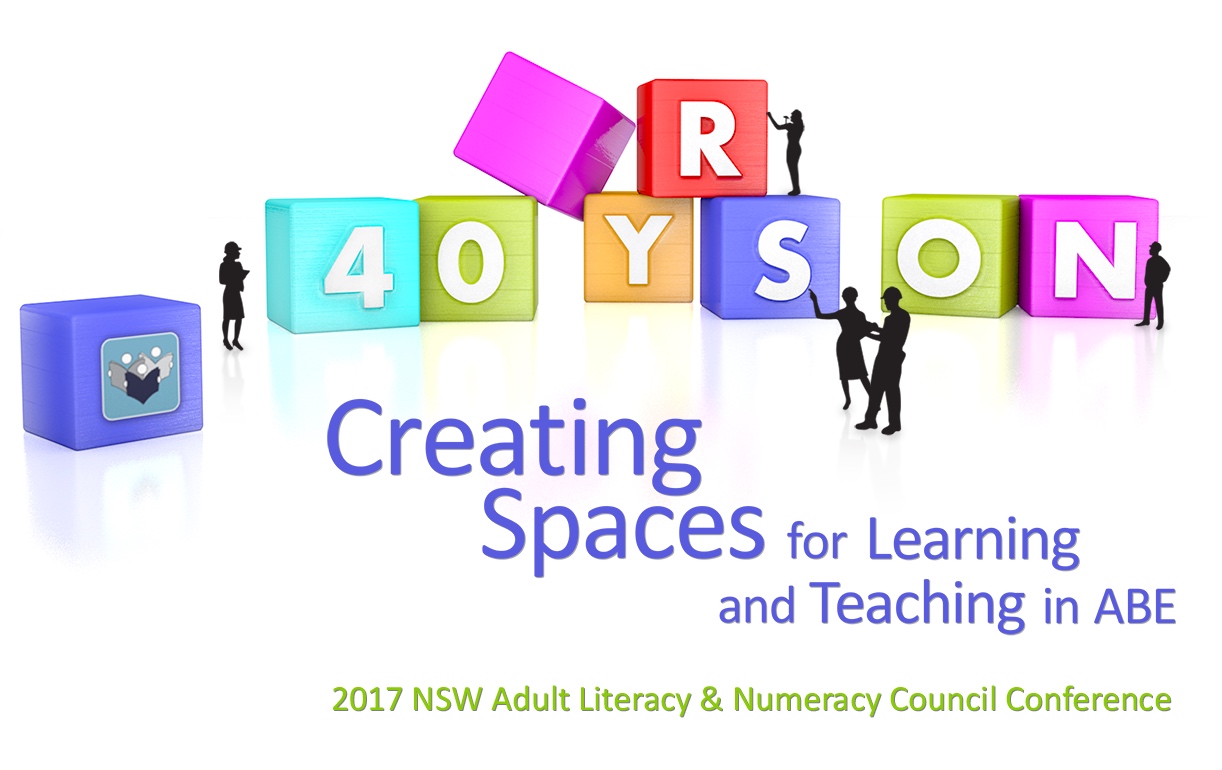 2017 marked 40 years since the establishment of the NSW Adult Literacy and Numeracy Council and the establishment of the Australian Council for Adult Literacy. The 2017 NSW ALNC Conference was a forum in which participants considered the different spaces in which ABE demands exist, and what participants in the field can do to shape the ways in which the demands could be met. We asked: Where are the spaces to debate policy, practice and pedagogy in ABE?
Keynote Speaker Presentations
Learning from History
When ACAL & NSWALNC were launched in 1977, it must have seemed to many in the field of adult literacy that their time had come. In preceding years, and for at least another decade, an optimistic view would prevail among literacy theorists and practitioners. Twenty years, on, Paulo Freire was dead, along with many of the hopes he had come to symbolise. By 1997, the world of adult education, and of adult literacy in particular, had been overtaken by a neoliberal education and development agenda which made little room for emancipatory practice. For the next twenty years, adult literacy theory and practice was increasingly forced into a much narrower view of what was possible, as the emancipatory impulses of the 1970s and 1980s receded into the distant past.
Learning as resistance, learning as desistance: rethinking the purpose of adult basic skills education in prisons.
This presentation discusses findings from a PhD research study within the innovative learning space of the purpose-built Intensive Learning Centre in a NSW prison. Stories of staff and learners are shared which explore the importance of engagement in quality adult basic skills education in the relationship between learning and desistance. Findings are presented which suggest that while learners say they enrol in prison education 'to get a job', their enrolment is often an act of resistance. Over a learner's time in prison education, the acquisition of literacy and numeracy skills at even the most basic level seems to be an important catalyst for the development of a non-offending identity, changing motivations, shifting world-view and other factors that support desistance from crime. Inspired by their learning, students become empowered to resist both prison and wider social cultural pressures and make interesting choices about their future. Their basic skills learning becomes much more than about 'getting a job'. The concept of 'rehabilitation' and its relationship with adult basic skills education is interrogated, the purpose of adult basic skills re-thought and consideration is given to how pedagogies of resistance and desistance might be developed to help marginalised basic skills learners flourish, even within an oppressive environment.
Prof Alan Morris and Dr Benjamin Hanckel
The perceptions that homeless people and those at risk of homelessness have of literacy classes

This presentation was based on the report at https://www.uts.edu.au/sites/default/files/2017-09/Homelessness%20and%20Literacy%20Report.pdf
The study examines how people who are homeless or are at risk of homelessness perceive literacy classes, the barriers to them attending and what is required to make them more amenable to participating. The study draws on 22 in-depth semi-structured interviews. Almost all of the interviewees were very interested in attending a literacy class. There was an acute awareness that attaining literacy could be life-changing. At the same time interviewees felt that a number of aspects would have to be in place if they were to attend. The venue was important and students would have to feel absolutely safe and comfortable. The provision of food was seen as a significant inducement. The timing of the classes was also viewed as important. Most interviewees preferred the afternoon as the morning was taken up with various activities. They preferred weekly short face-to-face classes that would fit within their routines. The way the tutor related to the class was viewed as crucial. There was a sentiment that s/he should be understanding and, ideally, street-wise. A major problem would be catering for different skill levels. Several interviewees had some literacy and were keen to improve their literacy skills while others while others had much more limited literacy.
From 1977 to 2017: How did we get here?

The presentation will trace the forty year development of the field of adult basic education in Australia with particular focus on the socio-economic drivers of change. It will trace its beginnings, grounded in a liberal humanist view of literacy education, to the present day employment-driven, human capital view and trace the influences on the profession through those decades. It is the aim of the presentation, and of the study from which it draws its data, to help practitioners to contextualise their practice and to identify ways in which they might regain something of the agency over their profession which was evident in earlier eras. The presentation will draw on data from an historical interpretive study of adult literacy and basic education in NSW. The data is relevant, however, to the development of programs nationally, and indeed internationally, since all have been subject to similar socio-economic influences.